Volunteer Cancer Drivers are happy to be back on the road helping cancer patients after being sidelined by COVID-19.
The Volunteer Cancer Drivers Society, a not-for-profit organization providing free transportation to and from cancer-related medical appointments throughout the Lower Mainland, recently resumed operations after being off the road for three months because of COVID-19. Because most of the volunteer drivers are seniors and many of the patients are elderly, service was temporality suspended to minimize the risk to patients and volunteers.
George Garrett, the society's vice-president and co-founder, said the society's executive rounded up donations of masks, cap shields and disinfectant wipes from various suppliers. New policies have been implemented to ensure patients and drivers are safe.
"The driver and the patient must wear a mask," he said. "The patient must sit in the back seat. There is hand sanitizer provided, disinfectant wipes provided. We ask the patient, when they call in for a ride, have you had any fever, have you had the flu, have you been feeling ill. They have to answer those questions. They are posed by the dispatcher and again by the driver, so it is double. We are being very careful."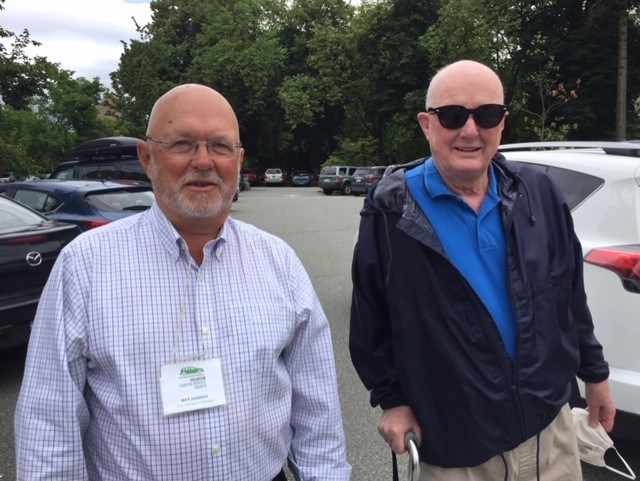 In 2019, the nonprofit provided 1,710 patient trips to New Westminster, which involved 1,522 hours of volunteer time and 23,644 kilometres.
Representatives from the New Westminster Firefighters Charitable Society recently made a $500 donation to the society to help with the cost of driving New West residents to treatment centres in Surrey and Abbotsford.
"They have supported us before," Garrett said. "We take patients from New Westminster over the river to Surrey and Abbotsford. The freemasons were providing service to New Westminster but they wouldn't go over the Fraser River. They take patients to Vancouver."
Garrett said the society greatly appreciates the support from the firefighters, as it helps to provide a valuable service to cancer patients. While the service was on hiatus, he said one New West resident had to pay $50 for each of three return trips to the cancer clinic in Surrey.
"The Cancer Agency provided some taxi vouchers," he said. "He didn't know about the vouchers. He's not complaining, he just said it cost him $50 each way."
Garrett also knows of a Langley man who needed a ride to Abbotsford every day for cancer treatment.
"He looked at the meter in the taxi – it was $60 to $65 each way from Langley to Abbotsford," he said. "It was covered, but he said 'I couldn't have afforded that.'"
The Volunteer Cancer Drivers Society is always in need of drivers.
"We ask them to commit to at least one day a week or the equivalent, like two half days," Garrett said. "They all say their fulfillment is in meeting the people and doing something for them. They do form a bond."
For more information about the society, go to www.volunteercancerdrivers.ca.