A Queensborough family's rock art project is blooming into an effort to spread kindness and cheer in the face of COVID-19.
Donabelle (Belle) Goyengko-Egerton has been working on the rock art with her two sons, eight-year-old Elias and four-year-old Paxton.
They're producing new works including rainbows and a variety of silly and punny offerings – like the line of smiling vegetables and fruit sporting such slogans as "Stay up beet" and "You're one in a melon," and the entire toilet-paper-themed line with sayings that include "This is how I roll" and "I'm on a roll."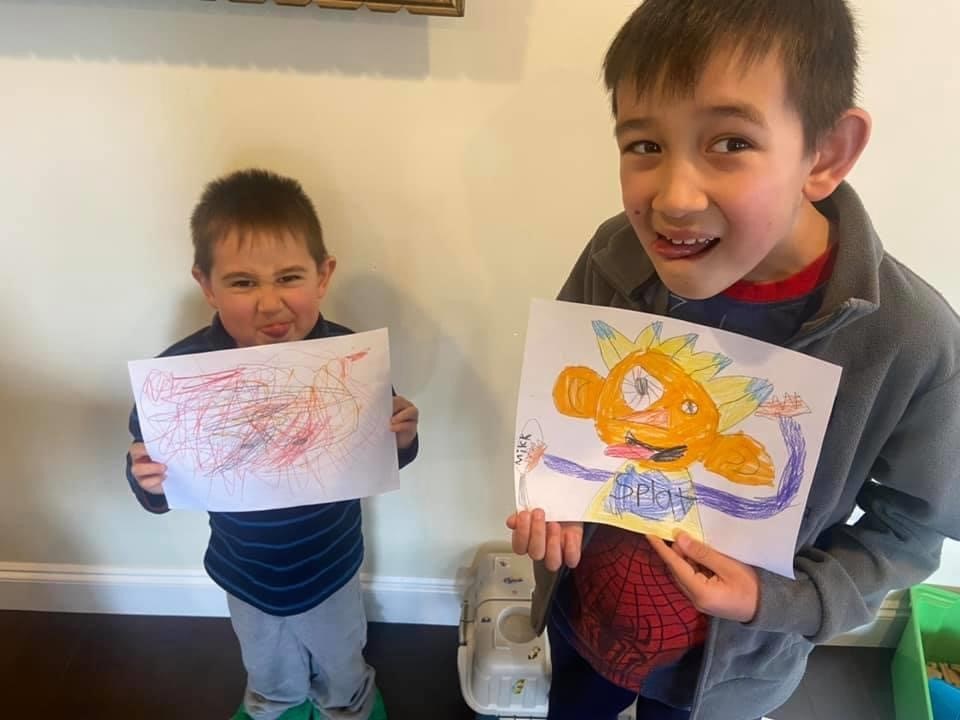 "I love to paint 'punny' rocks," Goyengko-Egerton wrote in an email. "Humour is another form of therapy in our household, and we love to share it."
She and her children are also working on art for their windows in an effort to spread neighbourhood cheer.
The idea of spreading kindness and cheer through art isn't new to the family.
Their rock art efforts began way back in November 2018, when Goyengko-Egerton's then-five-year-old son received a painted rock from a friend in California. It inspired him to paint his own rocks and hide them for the public to find, and Goyengko-Egerton started a local community Facebook group called Rock Art Canada.
The family painted Halloween rocks and hid them around the Queensborough neighbourhood, tagging the back of the rock with instructions to post a photo to the Rock Art Canada Facebook group, then keep or re-hide the rock for fun.
"Our friends and neighbours loved finding the rocks," Goyengko-Egerton wrote in an email. "Many joined in on the painting and hiding fun. Finding a painted rock brings joy to the finder."
The project started to grow from there. First there was a painting party to create rocks for the Canuck Place Children's Hospice in Vancouver. Then there were a number of events at Queensborough and Hamilton community centres, with rock painting becoming part of events such as Earth Day, the Children's Festival and the Queensborough Festival.
In August 2019, with assistance from a Neighbourhood Small Grant and the Queensborough Special Programs Committee, Goyengko-Egerton started a rock garden at Queensborough Community Centre with a plaque reading: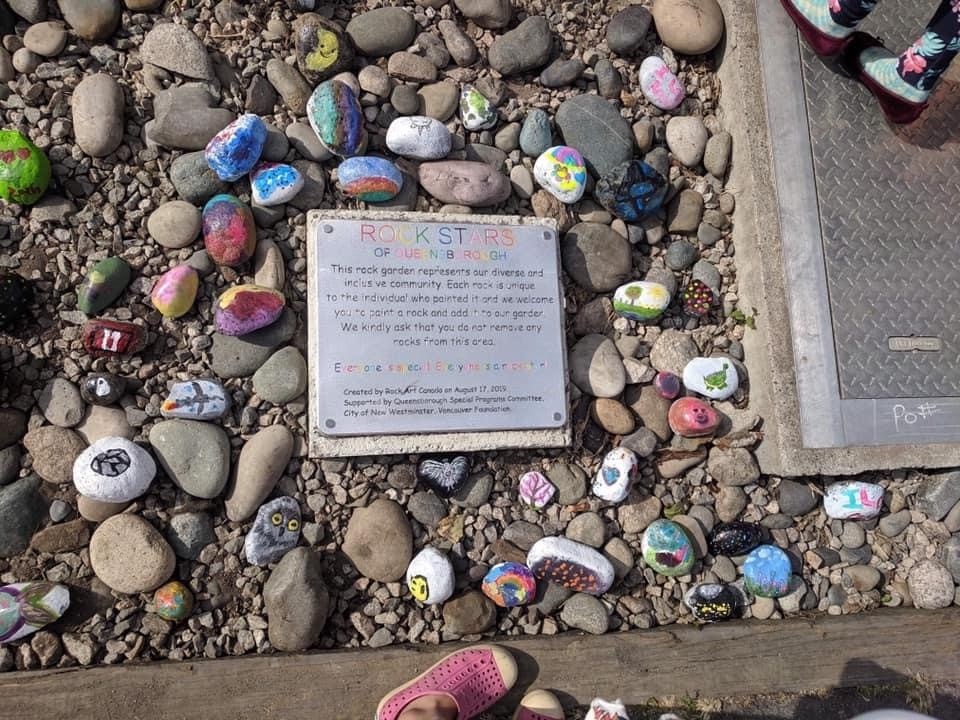 "ROCKSTARS OF QUEENSBOROUGH
This rock garden represents our diverse and inclusive community. Each rock is unique to the individual who painted it and we welcome you to paint a rock and add it to our garden.
We kindly ask that you do not remove any rocks from this area. 
Everyone is special. Everyone is a rockstar!"
Goyengko-Egerton is hoping that she'll be able to hold a special event to celebrate the one-year anniversary of the garden this August, depending what happens with the pandemic.
But, for the moment, she has her sights set on helping spread cheer in the community through this time of self-isolation.
She's temporarily renamed her Facebook group Rock Art Canada/Rainbow Rangers, and she's encouraging people to post drawings, paintings and other crafts in windows to share the same message of kindness and cheer while following health and safety precautions.
She's also asked people who are still painting kindness rocks to create organized, no-contact trades with family and friends rather than hiding them publicly.
For those who are still hiding rocks publicly, she's reminding everyone to use proper safety precautions – and she notes that properly sealed painted rocks can withstand war soapy water or disinfectant, which is advisable if you choose to place or pick up a painted rock.
"My mission is to spread kindness through painted rocks, as well as to inspire and encourage everyone of all ages and abilities to explore their creativity with an inexpensive activity," she said.
Goyengko-Egerton is also firm about the fact that everyone, regardless of their age or ability, is an artist.
"Many people have told me that they cannot paint or have no artistic ability but soon realize they can after trying rock painting," she said. "Because rocks are three-dimensional, (their) shapes can already spark one's imagination. Painting a rock is much less intimidating than a blank flat canvas."
For anyone who wants to paint a rock for the outdoors, Goyengko-Egerton encourages them to use only water-based acrylic paints and seal them with a proper sealant to prevent run-off and to keep them from harming the environment.
To follow all the artistic fun, check out the Rock Art Canada/Rainbow Rangers group on Facebook.