A local Scout has received Scout Canada's top honour in recognition of his outstanding achievement and community service.

Justin Wong was part of a group of 118 Scouts from the region who received the Chief Scout's Award or the Medal of the Maple for Distinguished Services during a ceremony in Vancouver on June 4.

Justin took home the Chief Scout's Award, an award for Scouts aged 11 to 14 that recognizes remarkable achievement across many areas, including citizenship, leadership, personal development and outdoor skills. The Medal of the Maple honours extraordinary Scouts up to the age of 26 who have significantly contributed to the spirit of Scouting through community service and extraordinary Scouting participation.

Celebrate Art

Community members are invited to a celebration of Art in the Streets.

The city's new community public art program aims to highlight local artists and enhance public spaces. Rob "Shockk" Matharu's designs are exhibited on street banners adorning Sixth Street from Columbia Street to Fifth Avenue.

"I find myself meandering the city at night to capture the silent nostalgia that exists in the urban and industrial environment," he said in an artist statement. "From railyards to the riverfront, New Westminster has a rich cultural and industrial heritage that I am compelled to document. I created a series of banners as a homage to New Westminster and as a way to expand upon the layers of nostalgia that this city reveals to me every day."

The banners will be displayed throughout the summer and fall. A public celebration is taking place on Friday, June 17 at 4:30 p.m. at city hall, 511 Royal Ave.

Nothing fishy about this award

A recent gala dinner raised $15,000 for Fraser River Discovery Centre.

Discovery Centre hosted its 24th annual Fraser River Hall of Fame gala at Anvil Centre on May 18. The hall of fame was established to recognize and honour individuals and organizations that have made significant and noteworthy contributions to the health and sustainability of the Fraser River, its culture, people industry and environment.

In front of an audience of more than 130 people, the City of New Westminster became the latest inductee into the Fraser River Hall of Fame.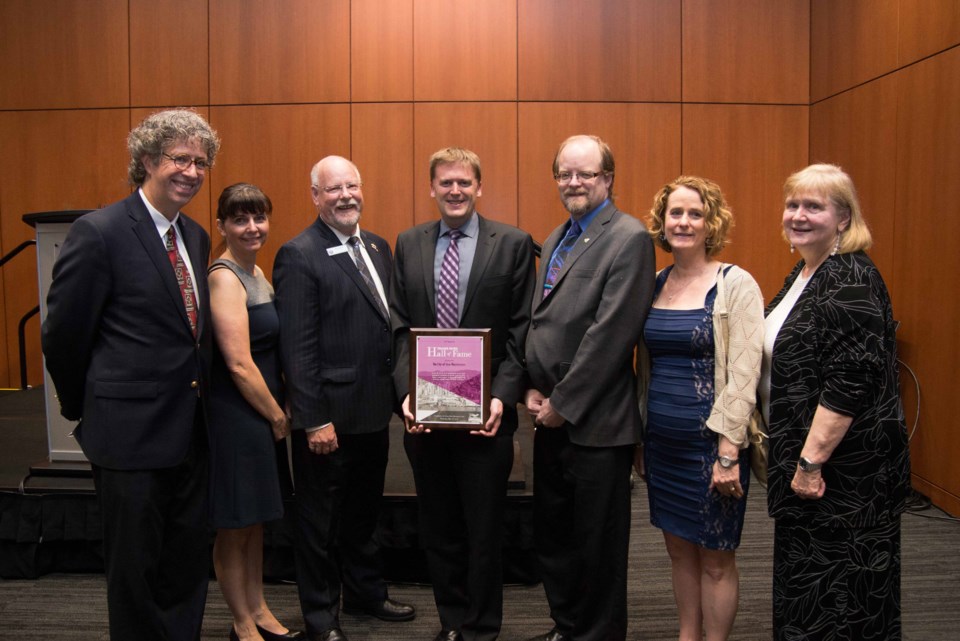 Lookout gets accredited – and a new deputy executive director
Lookout Emergency Aid Society is pleased to have been accredited by the Council on Accreditation after an intensive process and review that lasted more than a year-and-a-half.
The society runs a variety of programs and operates nearly 30 buildings providing shelters, transitional, supportive and affordable housing in nine Metro Vancouver cities, including New Westminster. Local facilities include the Rhoda Kaellis Residence, the Cliff Block and the Russell Housing Centre.
During the accreditation process, Lookout reviewed everything from policies to personnel files, to outcome, to the intake process for both shelters and residential programs, with a team of professional peer reviewers then auditing files and procedures. As a result of feedback from Lookout's society's guest, residents, stakeholder, municipalities and funders, it now offers Meet the Manager and Meet the Executive Director initiatives that allow guests and residents to provide direct feedback to the senior management team.
Shayne Williams, the society's executive director, said the organization is thrilled to receive its accreditation, which recognizes its commitment to maintaining the highest standards in services that reflect a client-centred approach.
Along with the accreditation, lookout has welcomed Keir MacDonald as its new deputy executive director. He formerly worked for B.C. Housing.
"I'm delighted to join the Lookout Society where I can focus my passion for working with and supporting our society's most vulnerable persons," he said in a press release. "With Lookout Society I will work on filling service gaps and striving to maintain dialogue with the people we work with and serve."

Do you have an item for Around Town? Send ideas to Theresa McManus, tmcmanus@newwestrecord.ca, or find her on Twitter @TheresaMcManus.Fraser River Hall of Fame