A lucky group of New Westminster students got the chance to test out their culinary skills at a special event at Fraser River Middle School last week.
Cooking with Cops, held on Dec. 5, was a first-of-its-kind event hosted by the New Westminster Police Department and the school district and was organized by Const. Gerald Lau, the police department's school liaison officer for elementary and middle schools in the city.
Lau partnered with Quirina Gamblen, the school district's director of instruction for programs and planning, to develop the framework for Cooking with Cops.
The goal of the event was to help build a relationship between local police officers and kids in the city, and to showcase the importance of food as a community-building tool.
"Hopefully this is a launching pad," Lau said. "It's about engaging the kids and positive engagement.
"We don't want to deal with them when there's negative consequences down the road, when it's too late. If we engage them at a young age, they have a positive experience."
Planning for the event began in late October, early November, leaving organizers with just over a month to put everything together, Lau said.
"Where there's a will, there's a way," he laughed.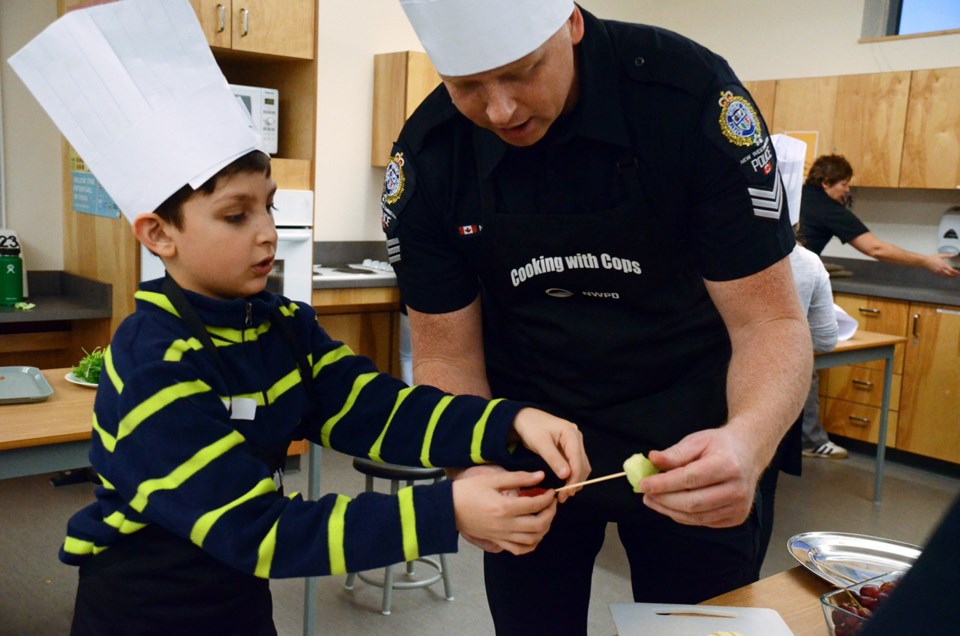 A call was put out to every elementary and middle school in the district to see how many kids were interested in taking part. The response was overwhelming, according to Lau.
More than 80 kids wanted to take part, but only 20 kids were able to participate because of the limited space. They were separated into groups of four and paired with an officer from the New Westminster Police Department.
Each team was tasked with preparing a different meal, which they then got to serve to their families at the community dinner later that evening.
Lau and Gamblen hope to see this become part of a regular series of events co-hosted by the police department and school district. They've already started thinking about other activities officers and kids could do together, but nothing they're ready to release to the public just yet, they laughed.
"At the end of the day, it's a smile on a face," Lau said.