It's that time of year when more and more community members want to give back those working to better the lives of folks in New Westminster.
Each December, the Record publishes a Guide to Giving to highlight some of local non-profits and to help connect residents to groups in need of their assistance, whether that's through donation of items or cash or some volunteer hours. Here are some of the local groups that would appreciate your support at Christmas – and beyond.
Arts Council of New Westminster
What it does: The Arts Council of New Westminster is a registered charitable organization that advocates for the arts community in New Westminster. Made up of hundreds of artists from across New Westminster, the arts council believes the arts are an essential component of community building and facilitating cross-cultural understanding. It offers a wide variety of free arts activities including Music by the River, New West Craft, ArtsToGo workshops, The Gallery at Queen's Park and more.
Christmas wish list: Cash donations (all donations over $20 will receive a tax receipt.) A $250 donation will be directed to the Hilda Cliffe Scholarship Fund, an annual arts award for a New Westminster Secondary School arts student.
Contact: Stephen O'Shea, executive director, at 604-525-3244 or info@acnw.ca, or make online donations at acnw.ca/donate.
Century House Senior Peer Counselling
What it does: For more than 33 years, the program has been supporting seniors who are dealing with emotional distress. In the past seven months, peer counsellors have seen 121 seniors and volunteered more than 1,600 hours. Volunteers are trained to listen, guide, clarify and empower seniors to reach their own goals.
Christmas wish list: Volunteers – a new senior peer counselling class will be held in 2019, and donations. The program receives no government funding and relies solely on private donations to provide this important service to local seniors.
Contact: Drop by Century House at 620 Eighth St., call 604-519-1064 or go to chspc.ca.
Family Services of Greater Vancouver
What it does: The New Westminster-based non-profit oversees the Caring Neighbours at Christmas program, which matches individuals, families or organizations with those in need of gifts and food for the holidays. People can sponsor a family by shopping for them and delivering presents themselves, or they can donate money and Family Services will buy presents and gift cards for food and other necessities for the needy families.
Christmas wish list: Family Services welcomes donations to help with this year's Caring Neighbours at Christmas program. It's already matched about 110 families, but still needs about 50 sponsors, as it still hopes to help about 15 families of two members, 10 families of three and several families of five, six and seven people
Contact: caringneighboursnewest@fsgv.ca or visit www.fsgv.ca.
Honour House
What it does: Provides a free-of-charge, temporary home in New Westminster, for members of the Canadian Armed Forces, veterans and emergency services personnel and their families as they travel to receive medical care and treatment in the Metro Vancouver area. Since September 2011, Honour House has provided more than 8,000 nights of free accommodation for men and women in uniform and their families. Honour House is run almost entirely by volunteers from New Westminster and the surrounding area.
Christmas wish list: Gardening tools; maintenance tools; cleaning products; kitchen supplies;bathroom supplies;video games; books;financial donations; and volunteers.
Contact: Craig Longstaff, general manager, at 778-397-4399. Donations can be mailed to Honour House Society, 509 St. George St., New Westminster, B.C., V3L 1L1. More info at www.honourhouse.ca.
IMPACT Parkinson's
What it is: IMPACT Parkinson's was created to make an impact on the quality of life of people living with Parkinson's, and their families and friends, by offering programs that focus on mind, body and soul. 
Christmas wish list: Volunteers are needed to help in a variety of roles, especially its main program Rock Steady Boxing New West. On the gift front, it needs 15 new yoga mats, three solid internal doors, one new iPad and a sign for its Sapperton premises. Financial donations are always welcome to help keep the programs going. 
Contact info: Visit #103-450 East Columbia St., email parkinsonswc@gmail.com or call 604-525-2631.
Lower Mainland Purpose Society for Youth and Families
What it does: The Lower Mainland Purpose Society is a non-profit, community-based, multi-service organization that delivers a continuum of programs to children, youth and families. As part of its 26th annual Christmas Hamper program in 2018, it will provide items to more than 110 families in the New Westminster, Burnaby and the Tri-Cities and will gift 100 bags of necessities and goodies to its low-income and homeless clients.
Christmas wish list:Donations of money, gift bag items (such as toiletries, socks, mittens, or non-perishable food items) or volunteer with the door-to-door delivery of the hampers are all appreciated.
Contact: To take part in this year's hamper program, contact the hamper coordinator Pam Bloom at 604-937-7163 or p.bloom@shaw.ca, or call Ashley at Purpose Society's head office at 604-526-2522.
New Westminster Family Place
What it does: Family Place offers drop-ins for playtime, art, songs, stories and snacks for the children, but it's also a place where parents can have fun with their children, meet other parents, participate in parenting workshops and learn about other resources in the community. It offers drop-in programs five days a week at six sites around New Westminster. It's a free community space where parents, caregivers and children can learn, play and share together in an informal, nurturing, family-centred environment supported by early childhood educators and family resource practitioners.
Christmas wish list: Diapers sized four to six, apple juice, Cheerios, Shreddies, coffee, tea and items from its Amazon wish list www.amazon.ca/gp/registry/wishlist/3B1AOVP0M00R1.
Contact: 604-520-3666.
New Westminster Firefighters' Charitable Society
What it does: Through the charitable society, members of New Westminster Fire and Rescue Services works to improve life in New Westminster by raising awareness and/or funds through fundraisers such as the Christmas tree chipping, shred-athon, Canucks Alumni charity hockey game and other events. The society's 90-plus members are continually volunteering their time for causes within the community to help those who are in need.
Christmas wish list: The New Westminster Firefighters' Charitable Society is collecting new unwrapped toys, non-perishable food items and donations that will be distributed within New Westminster. 
Contact: Glenbrook Fire Hall at 1 East Sixth Ave. or 604-519-1000. To see what events are coming up (including the tree chipping event on Jan. 5 and 6) check out the event calendar on the city's website at www.newwestcity.c.
New Westminster Lions Club
What it is: The Lions Foundation of Canada for Service Dogs works on initiatives to assist people in the community who are blind, deaf, diabetic, autistic or have special needs.
Christmas wish list: Reduce household clutter by taking old clothes and linens to a donation event taking place in conjunction with the New Westminster Firefighters' Charitable Society's tree chipping. The collection is on Sunday, Jan. 6 from 10 a.m. to 3 p.m. in the Canada Games Pool parking lot.
Contact:Louisa Lundy at 778-791-1633 or newwestlionsclub@hotmail.com.
Rotary Club of New Westminster
What it is: The Rotary Club of New Westminster is comprised of volunteer members who raise funds to support a variety of areas including seniors, youth, health and the arts.
Christmas wish list: The club is currently raising funds for a new interactive play area near the tin soldier at the Quay. This project is in memory of Dr. Irwin Stewart, who was a cherished member of the club. The club also welcomes new members to help Rotary continue its work in the community.
Contact: Louise Perry, club secretary, 604-549-5260 or lperry@gffg.com.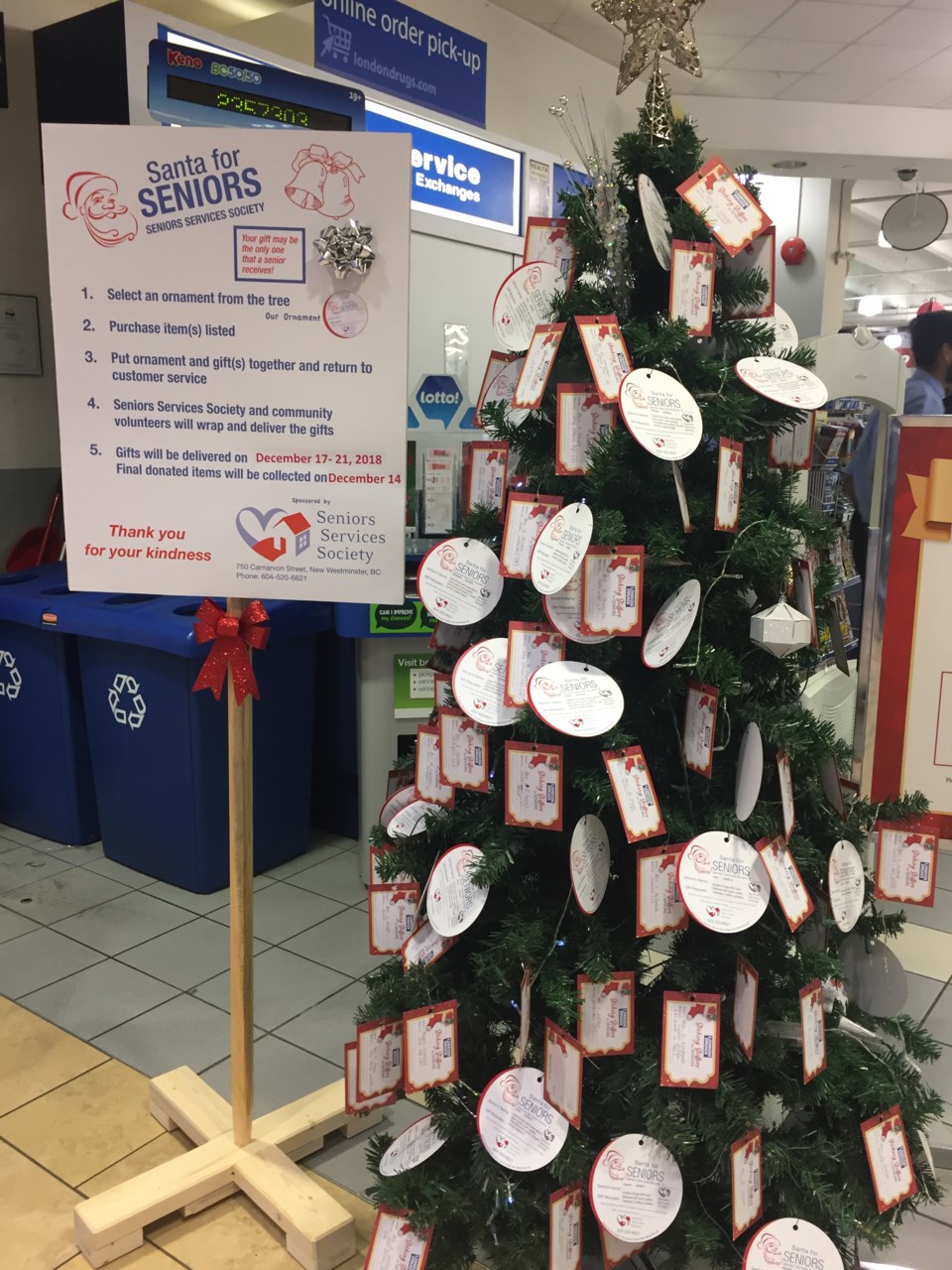 Seniors Services Society
What it is:The New Westminster-based non-profit agency provides local and provincial programs and services to support vulnerable older adults to live as independently as possible. Itassists seniors with housing, social and support programs.
Christmas wish list: The society supports more than 200 Metro Vancouver seniors through itsSanta for Seniors program. Visit one of the participating retail locations, grab a tag from the Christmas Tree, purchase gifts from the tag and leave them with Customer Service; the gifts will be delivered to the society, which will wrap and deliver them to the recipients. You can pick up a tag at Your Dollar Store with More (811 Carnarvon St.) and Save-On-Foods Sapperton(270 East Columbia St.) until Friday, Dec. 14 and London Drugs in Westminster Centre (#100-555 Sixth St.) until Monday, Dec. 10. The last pickup for gifts will be Monday, Dec. 17, as gifts will be delivered to clients that week.
Contact info:604-520-6621, info@seniorsservicessociety.ca or750 Carnarvon St.
Westminster House Society
What it does: Westminster House offers a long-term residential recovery centre for women and youth girls who are recovering from addictions.
Christmas wish list: Socks, umbrellas, rain boots, rain jackets, gloves, Starbucks gift cards, and bedding sets, pillows and duvets for single beds. The big-ticket items on this year's wish list are a new commercial fridge and commercial dish sanitizer. Financial donations are always appreciated, and any donation of $25 or more will receive a charitable gift receipt.
Contact: Susan or Lori at 604-524-5633 or send donations to Westminster House, 228 Seventh St., New Westminster, V3M 3K3.