Metro Vancouver's rental prices are up again for the fourth consecutive month in a row.
As temperatures climb across the region, the average monthly rental price for a one-bedroom, unfurnished apartment has increased by $51 from $2,330 in June to $2,381, according to the latest report from Liv.rent.
Rental prices across the Lower Mainland have surged year-over-year, with July 2023's average prices increasing by a whopping $352 since July 2022.
Liv.rent suspects that Metro Vancouver may see its costs continue to climb through the summer as increased demand for rental housing drives prices up, particularly as students return to school in September.
Canada's top five most expensive markets to rent in this month are all located in Metro Vancouver, too.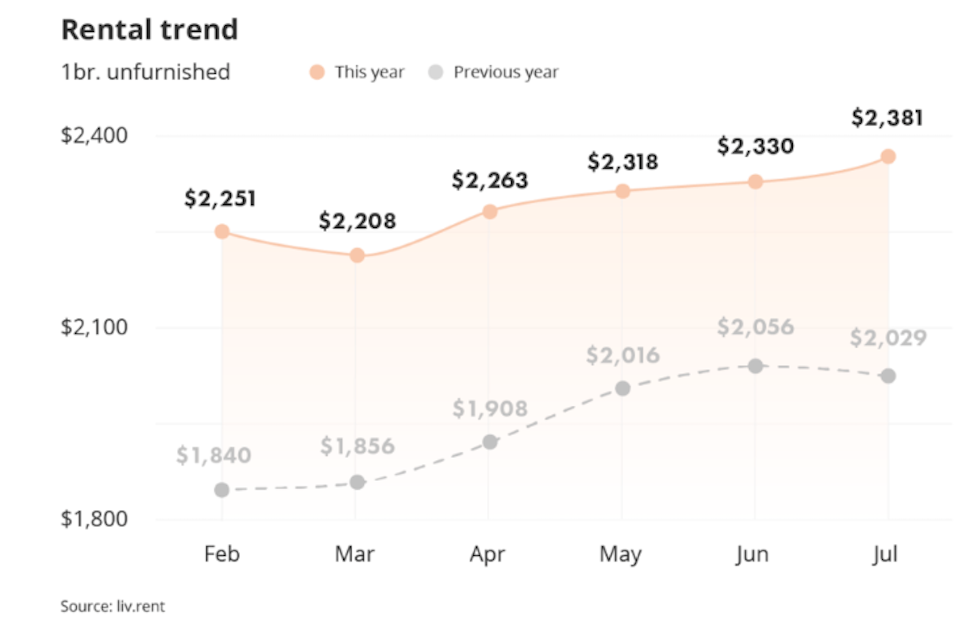 Metro Vancouver apartments for rent: Average rent by listing type
West Vancouver is the most expansive city in which to rent an unfurnished, one-bedroom apartment in the region this summer, with prices averaging $2,910 monthly. It is also the costliest place to rent two- and three-bedroom units, with prices averaging $4,212 and $5,691 per month, respectively.
North Vancouver had the second most expensive rental market, with unfurnished one-bedroom units averaging a couple of hundred dollars less, at $2,702 a month. The City of Vancouver wasn't far behind, however, with newly-listed units averaging $2,691 rent per month.
Richmond had the fourth most costly unfurnished, one-bedroom units, with monthly rental prices averaging $2,525. Burnaby rounded out the top five most expensive cities, with its units averaging $2,403.
For furnished apartments, North Vancouver was the most expensive place in which to rent a one-bedroom, with prices for the complete package averaging $3,293. Two-bedroom furnished units cost the most in the City of Vancouver, with prices averaging $4,409 a month.
West Vancouver was the most expensive place in which to rent a furnished, three-bedroom apartment by a staggering margin. Prices averaged a whopping $7,612, which was $1,708 more than the next most expensive market, North Vancouver.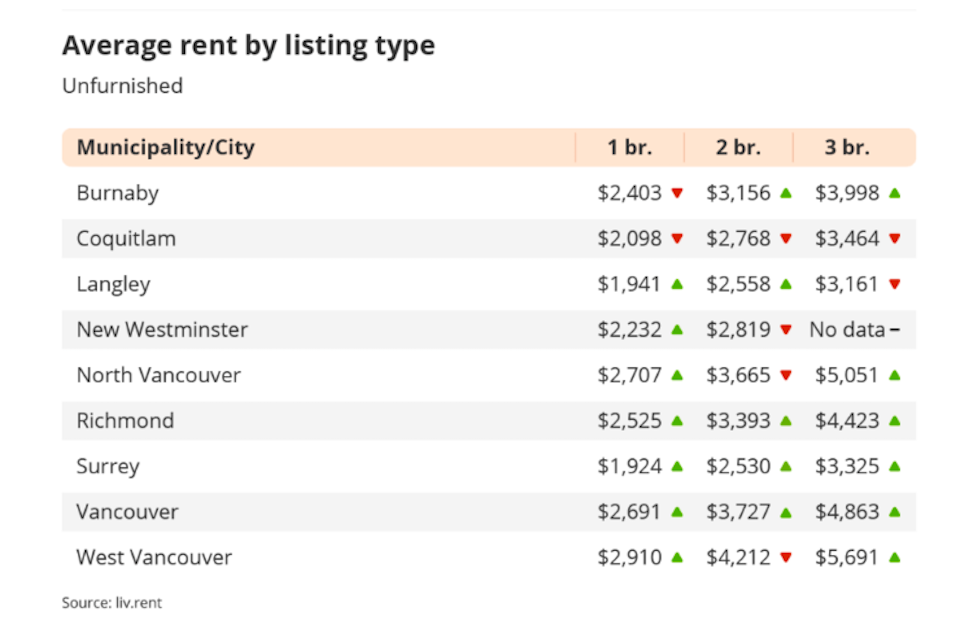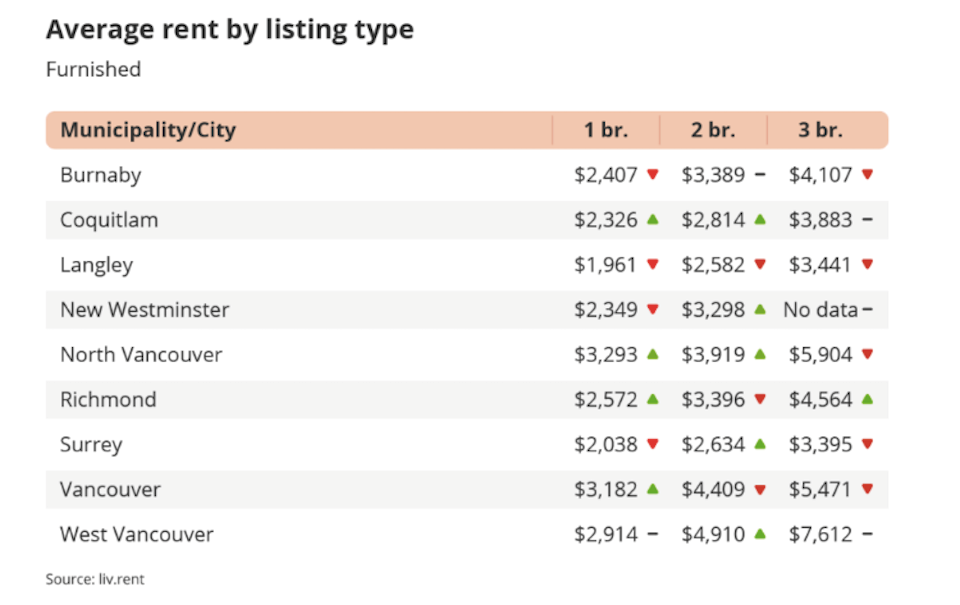 Vancouver rent by neighbourhood in July
Renters looking for new places to live will be hard-pressed to find options for under $2,000 again this month.
Renfrew-Collingwood offers the best bang for a tenant's buck this month, with prices averaging $2,331 monthly rent for one-bedroom, unfurnished units. Dunbar-Arbutus offers the next best rental option, with prices averaging $2,623.
On the other end of the spectrum, renters looking for housing in Downtown Vancouver face montlhly rents averaging $2,928 for a one-bedroom, unfurnished unit this July.