If it were a sunny day, chances are Fei Ye would be riding his bike.
Check that — would want to be riding his bike.
His doctor told him no cycling until his spleen heals.
That would be the spleen he ruptured after crashing his Trek mountain bike during a ride in Stanley Park in mid-November. Ye ended up in St. Paul's Hospital for three days before he was discharged.
The good news is the 52-year-old semi-retired businessman didn't require surgery.
The bad news is that when he left the hospital to look for his bike, which paramedics locked up for him near St. Paul's front entrance, it was gone.
His reaction?
"I was a little bit upset, but then just thought somebody needed it more than I did," said the Point Grey resident. "Also, maybe it was a way of someone telling me I shouldn't be riding the bike anymore, I don't know."
'An early Christmas gift'
Up until last Wednesday, Ye believed he would never see his Trek again. He paid about $800 for the bike last year and bought it to continue the exercise he was no longer getting from his regular swims; contracting COVID-19 at the pool was a real concern for him.
Ye didn't bother to report the bike stolen to police. He did, however, check with his insurance company about a replacement; his deductible cost would be $1,000, a sum that turned him off looking for another bike.
Then Vancouver police Const. Laura Coburn called. At first, Ye suspected it was a scam. Then he heard Coburn provide more details about his bike and that it was recovered by officers doing a walkthrough at a single-room-occupancy hotel in Gastown.
"It is like an early Christmas gift, and I'm so happy my bike was found," he said this week, noting he was reunited with his Trek after police dropped it off to him Dec. 15.
Coburn traced the bike to Ye after running the serial number, make and model with Trek, which told her it was purchased at West Point Cycles on West 10th Avenue. An employee registered the bike before Ye left the store with it last year.
West Point staff provided Coburn with Ye's contact information, which led to the happy ending.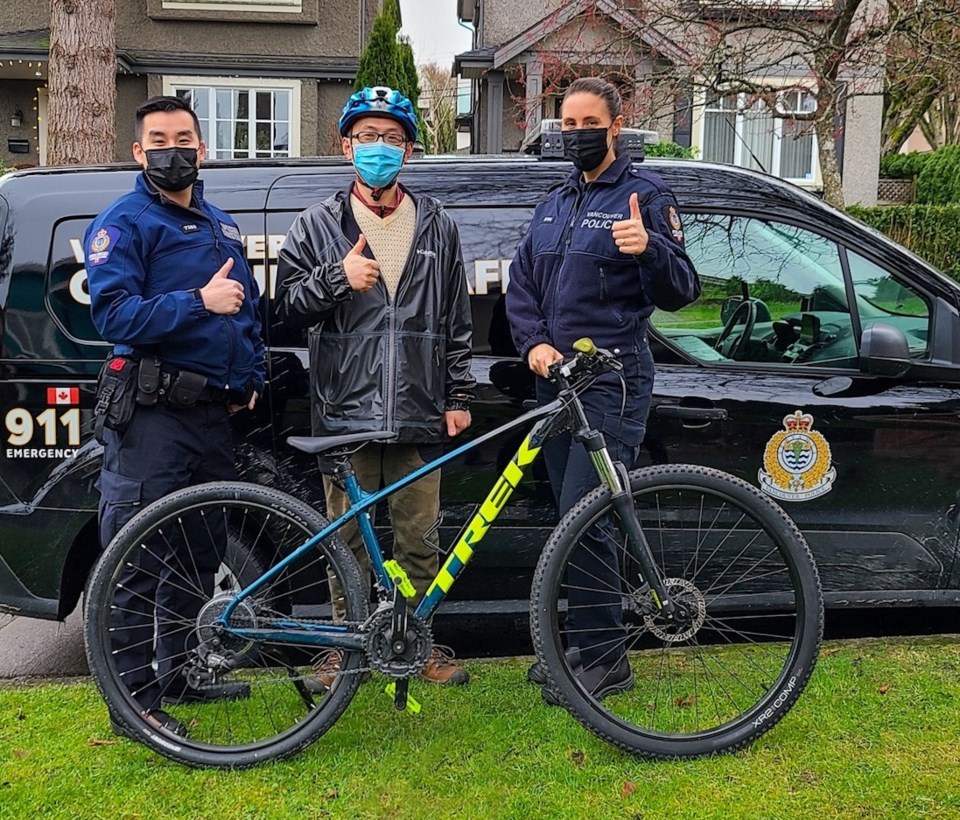 But those types of endings don't happen as much as police would like, largely because owners don't take the simple steps to register their bikes upon purchase. Ye was fortunate the bike store did it for him, but not every bike seller does.
From January to November of this year, 2,131 bikes were reported stolen to police. In 2020, it was 2,049 bikes and 2,742 in 2019, according to Vancouver police data.
The number of stolen bikes not reported to police is difficult to quantify, but investigators suspect it's significant.
Police recommend bike owners register a profile on Project529.com, complete with serial number, value, description, make, model and photo of them and their bike. Keep a receipt, too. Also, use a good lock to prevent it being stolen in the first place.
At the very least, Coburn said, an owner should record their bike's serial number and keep a photo of themselves with the bike, if they choose not to register on Project529.com, which is a registry approved by police to assist with returning stolen bikes to owners.
"If everyone followed that, we would just be able to quickly run the bikes [through Project529] and get them out of here," she said, adding that it's also crucial for owners to report their bikes stolen.
Otherwise, chances of returning a stolen bike to an owner are slim, as evidenced by the 400 kept in the Vancouver police's property storage building, where Coburn works with a team to return bikes and other stolen property to citizens.
The majority of the bikes are stored on what resembles a dry-cleaning conveyor belt that runs up the side of a warehouse wall and high into the ceiling.
Mountain bikes, race bikes, BMX bikes, kids' bikes and electric bikes are all accounted for in an aisle similar to a Costco store, with the quality ranging from low to high-end, including a $3,600 red Giant Anthem mountain bike.
'Never thought he'd see his bike again'
The Giant was among nine stolen bikes recovered by police Nov. 22 from a rooftop "stash spot" in Gastown. The owner reported his bike stolen Nov. 8 to Surrey RCMP but erroneously provided the wrong serial number; it was off by one digit.
Meanwhile, the thief created a fraudulent profile with the proper serial number on Project529.com to report the Giant stolen. Staff at Project529.com noticed there were multiple profiles for stolen bikes set up likely by the same person.
"He just posted a picture of it on the street and left [his profile] blank and then said 'stolen,' hoping police would actually give it back to him," said Coburn, noting the investigation is ongoing.
In the end, police contacted Giant Canada with the serial number and an employee told Coburn the bike was purchased in 2018 at a store in Jasper, Alta. A call to Jasper Sports Store secured the owner's contact information.
"He's thrilled because he never thought he'd see his bike again," she said, noting the owner lives in Victoria and plans to travel to Vancouver during the holidays to pick up his bike.
If police are unable to find an owner within 90 days, the bike goes to auction, proceeds of which go to a City of Vancouver general revenue fund.
Asked what the solve or return rate is, Insp. Mark Wooldridge, who is in charge of property and forensic storage services, was candid: "It's not very good, it's frustratingly low."
At the same time, police returned 35 stolen bikes worth $34,000 since September to their rightful owners. In the past few months, other teams of officers have recovered bikes worth a total of more than $100,000 from Facebook Marketplace and other online selling platforms.
Police also continue to operate a "bait bike" program, arresting 23 people since April.
Wooldridge pointed out that police are not just after thieves who steal high-end bikes.
"We treat every bike the same that comes in [to the property office], whether it's a kid's bike that cost $100 at Walmart, or a $3,000 Trek bike or a $6,000 mountain bike," said Wooldridge, who credited Const. Tammy Berzins for her early work in building contacts in the cycling community to help return bikes to owners.
"We make sure that the data is correct [serial number, make, model], so we have the best opportunity to return it."
'I was so moved'
Meanwhile, Ye continues to recover at home from his accident, which happened after he hit a patch of wet leaves on the park's main road.
A break in the rainy weather got him out that day.
"I was going to go Richmond to buy something, but there was a sunny break and I just wanted to take advantage of that," he said, noting he had worked his way up to riding 40 kilometres per day since he bought the bike.
Ye wanted to publicly thank all the doctors and nurses at St. Paul's Hospital and the people who came to his aid when he crashed, including tourists and others, one of whom kept him warm with their jacket.
"And there was a doctor from Quebec," he said. "He was checking my pulse and my eyes, and he comforted me. I was so moved."
His bike, meanwhile, didn't get too banged up and is now safely stored in his house.
When will he be back on it again?
"The doctor told me I could not do any exercise for three months."