Officials are investigating a potential environmental health threat in a B.C. elementary school after multiple staff members were diagnosed with breast cancer, Glacier Media has confirmed.
The cases all appear to be contained to a single wing of Alouette Elementary in Maple Ridge, B.C. An undisclosed number of staff in that wing tested positive for breast cancer over the course of two years. The most recent diagnosis coming before this year's winter break, said a spokesperson for School District 42. The spokesperson said she couldn't disclose the exact number of cases, citing privacy reasons.
"It's just weird. They're all in the same wing of the school. It's the same four classrooms," mother Amanda Jackson told Glacier Media.
"My son's teacher was the latest case, unfortunately. His teacher from last year as well."
Last year, Jackson said her son and his friends were "constantly sick." At first, she thought nothing of it — like many kids, she figured they were just passing germs around in a school of more than 400 students. Then COVID-19 restrictions eased, and parents were finally allowed back in the school.
"My nose runs. You just don't feel well. It's hard to breathe," she said. "It's an old building… I just assumed it was asbestos or mould or something."
That is, until more and more people started feeling the same way, Jackson said.
Investigation into school contamination continues
After the most recent diagnosis, the school district contacted WorkSafeBC, the BC Centre for Disease Control (BCCDC) and the local medical health officer, according to district spokesperson Irena Pochop.
Fraser Health said it is not conducting an environmental investigation at Alouette Elementary, "but we are aware the District is doing testing, and we have been in communication with the school," wrote health authority spokesperson Nick Eagland in an email.
A spokesperson for WorkSafeBC, meanwhile, told Glacier Media it recently provided "consultative support" to an investigation conducted by the employer, School District 42.
Pochop said the school district has begun environmental testing, looking for friable asbestos and mould, and testing air and water quality. Investigators are also testing the school custodial supplies for contamination.
"We are still awaiting the results of air quality testing, but all results were received and shared with the BCCDC, WorkSafeBC and the medical health officer, who confirmed the testing did not identify any possible sources that could cause breast cancer..." said Pochop in an email.
Those agencies and health officials advised the school district that the next step will involve an assessment from the BC Cancer Agency.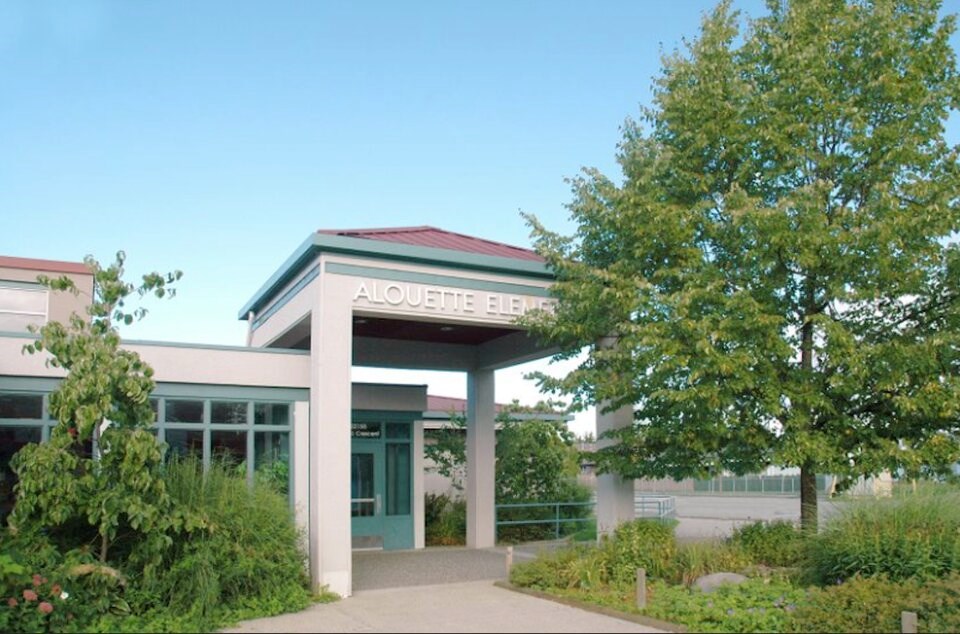 According to the agency, a disease cluster can occur when a group of people share something in common, like their work or where they live. But cancer is a collection of over 100 different diseases. Many have multiple triggers that set off the disease. In other cases, the triggers are unknown.
"That's why sudden outbreaks of cancer are not seen in the same way they are for infectious diseases," notes the agency on its website.
"The closest example occurs when groups are exposed to a very potent cancer-causing substance through their occupation, or have a short-term exposure to a strong cancer-causing substance (a carcinogen)."
The agency points to radiation exposure survivors of the atomic bomb explosions in Japan faced after the Second World War. But even in that case, "that cancer cluster emerged after, and over, many years."
Glacier Media reached out to the BC Cancer Agency on Thursday, Jan. 19 to confirm whether it was conducting an investigation, and if so, what it had learned. A spokesperson for the Provincial Health Services Authority, which speaks to the press on behalf of BC Cancer, said it could not provide a response "until next week at the earliest."
Pochop said classes have not been suspended in the section of the school that's under investigation, and the medical health officer has not raised any concerns about student safety.
"While we have been dedicated to following up on staff concerns, we are also mindful of and attempting to respect the right to privacy of the staff members who have been impacted by their diagnosis," she said.
Asbestos exposures among biggest source of worker deaths in B.C.
While it's not yet clear what has led to the cluster of cancer cases, workplace exposures at B.C. schools have been known to trigger cancer in the past.
Past studies from WorkSafeBC have identified cases of lung cancer and mesothelioma — a rare form of cancer often brought on by asbestos exposure that usually affects the linings surrounding organs in the chest — in people working in B.C. schools undergoing renovation. Those risks are especially elevated in buildings built before 1990.
Between 2002 and 2021, WorkSafeBC recognized 1,112 worker deaths related to asbestos exposure. Of those, 95 per cent were male and 59 per cent were between 71 and 85 years old.
But according to the American Cancer Society and WorkSafeBC, people exposed to asbestos usually experience a 20- to 30-year latency period before receiving a cancer diagnosis.
In addition to the negative asbestos test results, none of the authorities contacted for this story provided information to suggest the teachers were exposed to an environmental toxin like asbestos over multiple decades.
Built in 1989, Alouette Elementary was expected to receive interior and exterior upgrades in 2022 and is due to to have its building envelope remediated by 2024, according to a 2022 strategic facilities plan.
"The only school remaining in the Central Capital Zone with building envelope remediation requirements is Alouette Elementary," noted the plan.
There is no evidence, however, that the age and condition of the building have contributed to the cancer diagnoses.
Suspected school cancer clusters not unheard of
In other jurisdictions, suspected school cancer clusters have been blamed on a number of environmental exposures.
In December 2022, investigators from the University of Iowa found it was likely there was no cancer cluster in a local school after 12 teachers were diagnosed with breast cancer over a decade.
At a high school in New Jersey, more than 100 former students and staff were diagnosed with brain cancer and other central nervous system cancers over a 30-year period. One former student who tested positive for cancer told local reporters last year he believed the cases may be linked to a nearby plant at one time used to process, package, store and ship uranium under the Manhattan Project. But an environmental study carried out last year found no traces of radiological contamination, according to a report from NBC in May.
And in 2019, the Pennsylvania Department of Health found that over the course of a decade, four diagnosis of a rare tumour in students and staff members were not "consistently or statistically significantly higher than expected," reported a local newspaper.
Back in Maple Ridge, Pochop said their investigation will continue under the direction of the medical health officer.
"The health and safety of our students and staff is always our top priority, and we are committed to following any and all direction that we may receive from public health experts," Pochop said.