Summer's not over yet, so get out and enjoy the best places in New Westminster for ice cream. From Italian gelato to Québécoise classics, the Royal City has something for every palate. Here are our Top 5 local ice-cream spots.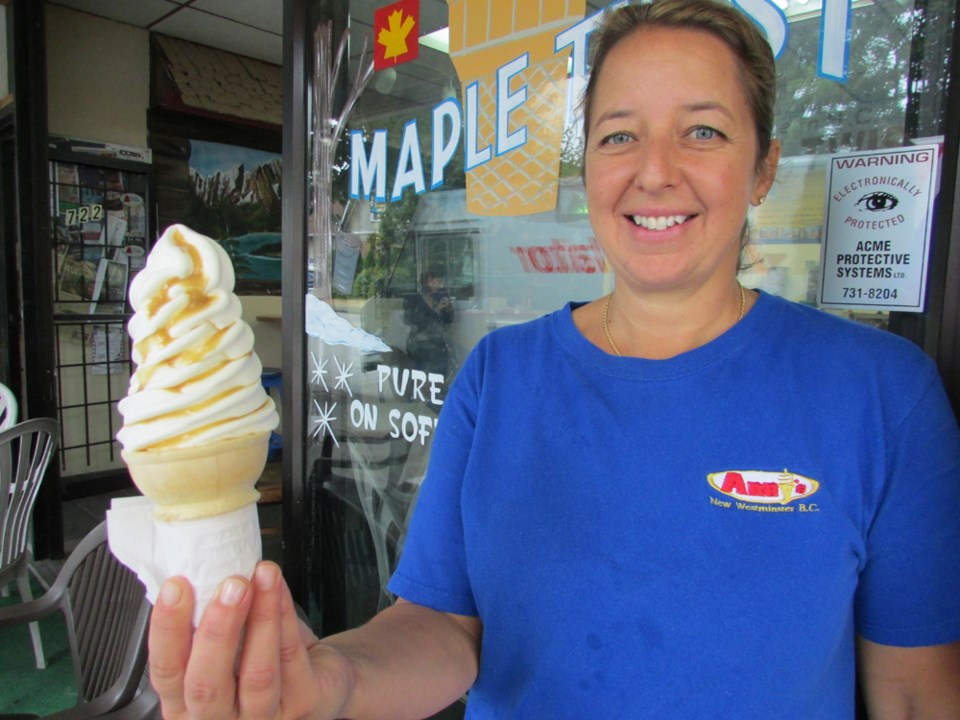 1. Anny's Dairy Bar serves up Quebecoise comfort food, and the maple twist cones are a favourite among locals. Anny's uses soft serve vanilla ice cream, made with real cream and topped with a swirl of pure maple butter. (For the uninitiated, maple butter is a thick, creamy sauce made from heating maple syrup. There's no actual butter involved.) The cones runs from $3.20 to $4.95, depending on size. Anny's is a family-run business, well-known for authentic Montreal fare, like poutine, smoked meat sandwiches, and it's probably the only place outside Quebec where you can find these maple twist cones. Anny's is at 722 Sixth St. Hours: Open every day, from 11 a.m. to 10 p.m.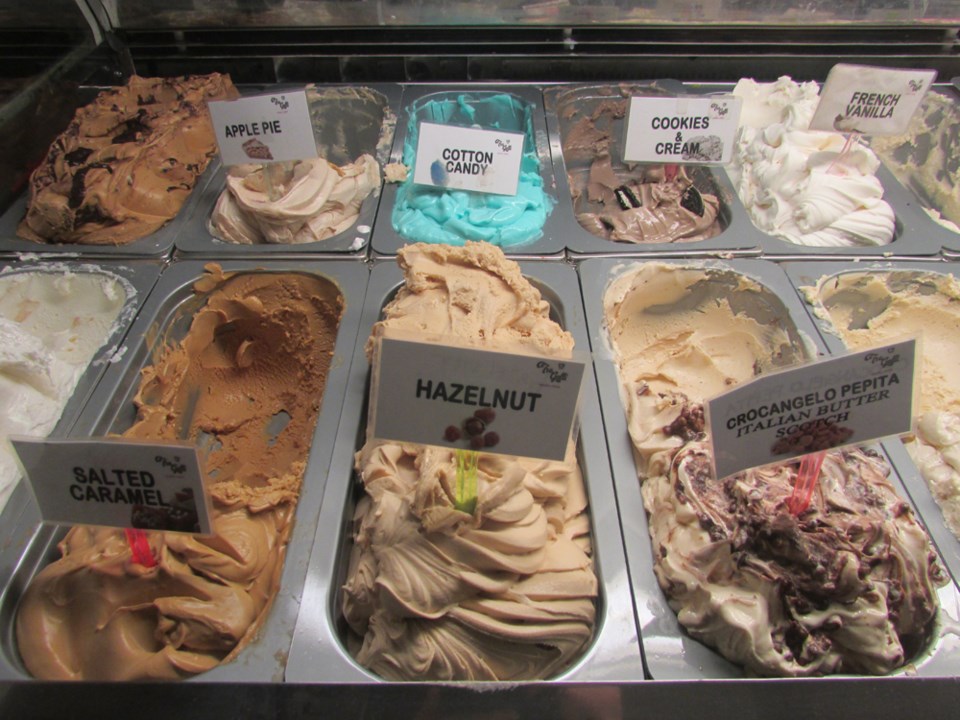 2. Are you looking for an authentic Italian gelato experience? Then try Tre Galli Gelato Caffe in River Market. There are two cases of flavours: one with gelato, the other filled with dairy-free sorbet. We recommend the passion fruit or lime mojito sorbet. On the gelato side, try salted caramel or French vanilla. Bubble gum and birthday cake are popular with the kids. Tre Galli circulates the flavours so there's always something new or different to try. At Tre Galli, you buy a ticket at the cashier first, then decide what flavour you want. A single scoop and cone costs $4.65. Tre Galli also serves simple Italian dishes, like pizza and paninis. Tre Galli is in River Market at 810 Quayside Dr. Hours: 9 a.m. to 9 p.m., seven days a week.
3. Purdy's is famous for chocolates, but did you know they serve the most heavenly ice-cream bars? There are two choices, both made with Island Farms ice cream. The original is a vanilla bar dipped in chocolate and rolled in bits of roasted almonds. The ultimate is where things get a little wild. The same base vanilla ice-cream bar is dipped in white chocolate first, then dark chocolate – twice – then rolled in almond bits, and the Purdy's staff do all of this right before your eyes.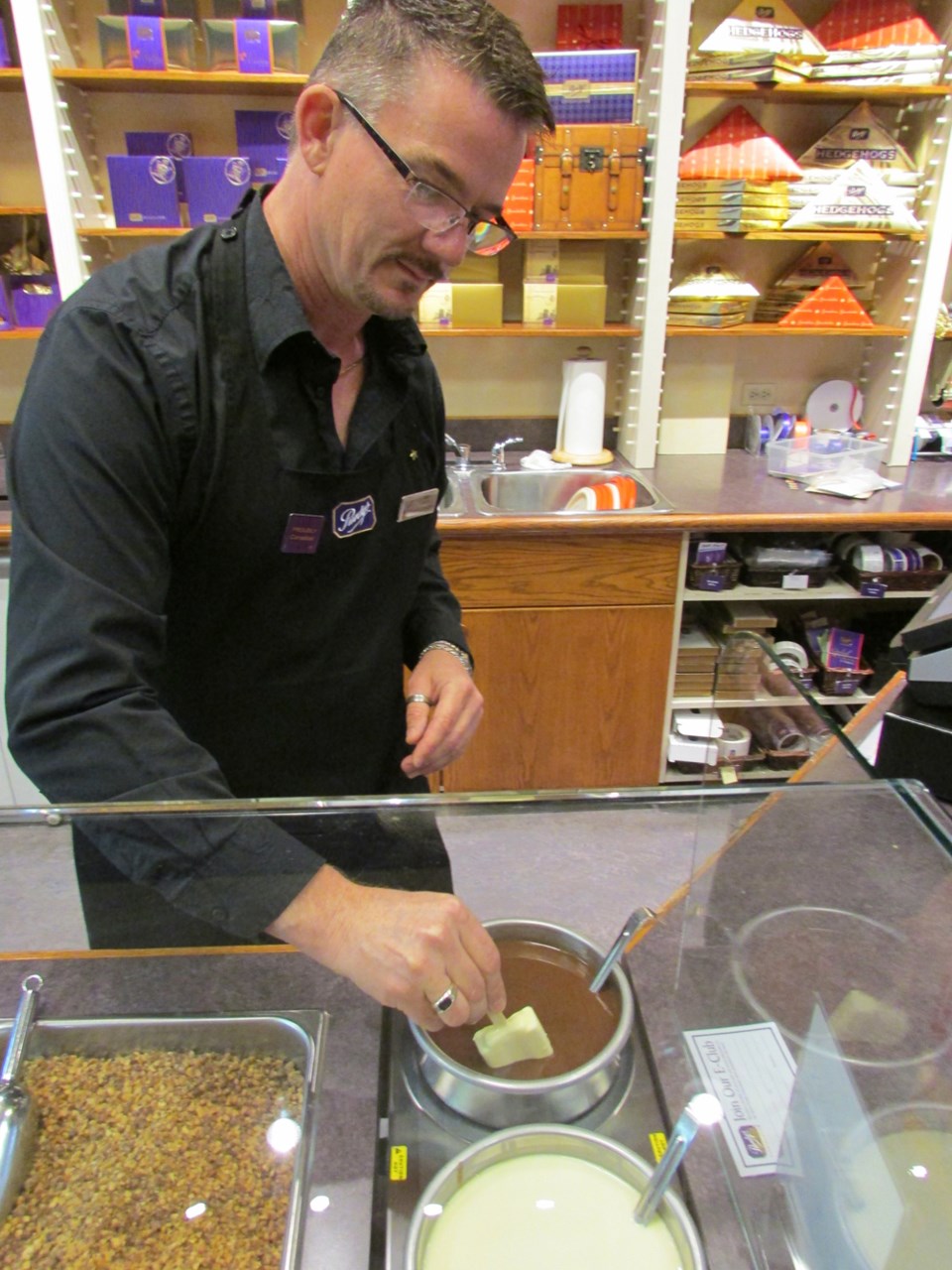 The original ice-cream bar is $3.55, while the ultimate is $4.55. Purdy's is in Royal City Centre, at 610 Sixth St. Hours: Monday to Wednesday and Saturday, 9:30 to 5:30 p.m. or Thursdays and Fridays, 9:30 a.m. to 9 p.m.
4. Menchie's is frozen yogurt, not ice cream, but it's still one of the faves among Record readers.Menchie's operates on a self-serve model, where you pick your frozen yogurt flavour (vanilla chocolate, cake batter or tart) and then load up at the toppings bar. Options include bits of frozen cheesecake, cookie dough, blueberries, strawberries, marshmallows and frosted animal cookies. Nutella is the most popular, along with cheesecake pieces, cookie dough, gummy worms and rainbow sprinkles. Don't go overboard, because you pay by weight. A typical serving could cost between $5 and $8. Menchie's is at Columbia Square Plaza, in unit 101, at 1015 Columbia St. Hours are Sunday, 11 a.m. to 10:30 p.m., Monday to Thursday, noon to 10:30 p.m. Friday, noon to 11 p.m., and Saturday, 11 a.m. to 11 p.m.
5. Sticky's Candy primarily sells sweets in bulk, but there's also Island Farms ice cream. There at the classics (vanilla, chocolate strawberry) and candy-inspired flavours like cotton candy, bubble gum and birthday cake. Single-scoop cones go for a very reasonable $2.75; doubles go for $3.75. Waffle cones cost 75 cents extra. The shop is a Canadian franchise but they sell a lot of U.S. and U.K. candies and chocolate bars, which have less edible wax than Canadian confections. Just be warned: Once your kids lay eyes on the candy, they will probably beg to return. Sticky's is at 618 Sixth St. Hours: Monday to Thursday, 10 a.m. to 6 p.m., or Friday to Sunday from 10 a.m. to 8 p.m.