Celebrating the holidays with family and friends can be costly, but it doesn't mean it has to break the bank. In fact, the fifth annual Winter Celebrations at Anvil Centre in downtown New Westminster is the perfect way to experience top-tier artists and exceptional community performers, all easily accessible while being easy on your wallet, too.
The scope of entertainment is broad and deep, with a combination of free performances and low-priced ticketed events from December 21 to 31.
Seasonal stagings often underwrite the usual fare. However, the Winter Celebrations will include more than traditional Christmas performances. You can also expect an inclusive, eclectic offering of performing arts: artists, musicians, singers, dancers, and storytellers for every age—at every turn. Literally.
"We have a lovely set of options that are energised in a way that Anvil Centre really supports because it's a fluid open space, as opposed to a formal theatre," describes Jessica Schneider, executive director of Massey Theatre Society.
"From children and youth to adults and elders, everybody can express their energy, whether that means walking the Winter World lantern labyrinth or going into the kids' zone, complete with climbing structures and games."
The luminary labyrinth is a beautiful installation, where soft white glowing lanterns outline the maze and a strikingly stylish rice paper sun suspends over the centre, providing a unique backdrop for the free performances.
"We have some busking style presentations around it, with chairs for people to gather to hear different artists," explains Schneider. "It's that kind of activated performance space, which I think is quite unique and really lends itself to that intergenerational opportunity. It's really informal—you can relax, sing along, and experience a special feeling."
Local talent, free performances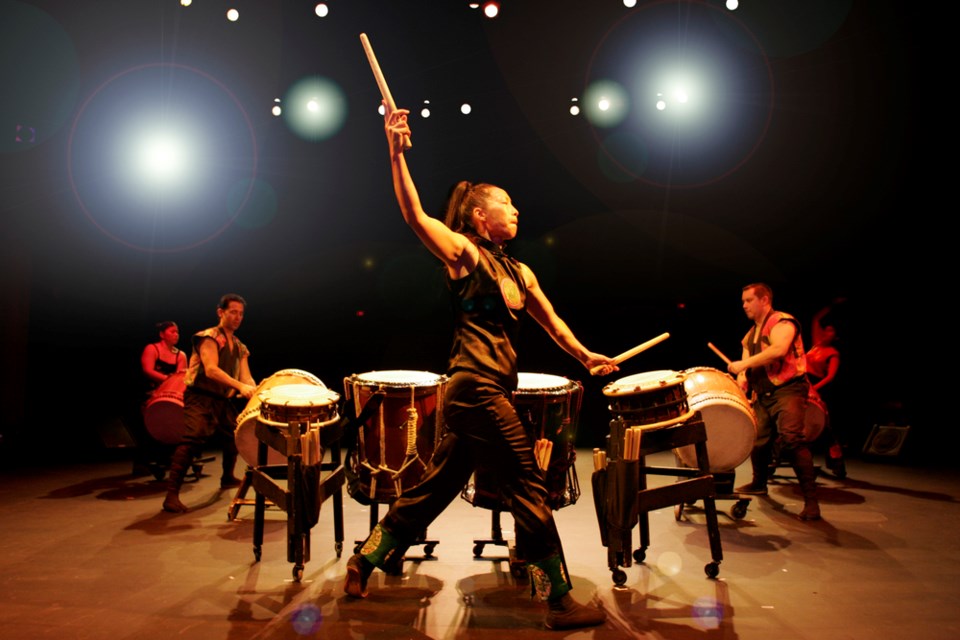 "We're excited to host a lot of community artists, like Ed & Salve Jazz Duo, New West locals performing holiday easy listening jazz covers and a fantastic singalong," says Schneider.
The home-grown talent doesn't stop there and extends to the likes of Wazaman Guitar Duo, Matt Silverman and Sara Wazani, New West guitar teachers performing both classical and their own compositions; Devon More, singer-songwriter and multi-instrumentalist playing original music; and classical musician/singer Cassius Khan (Ghazal/Tabla), and his wife, Amika Kushwaha, performing Kathak dance.
More local highlights include Jason Qiu, playing holiday ballads acoustically on the keyboard, with vocals in Chinese and English; Stage New West: student performers from Stage Musical Theatre Academy, a variety of student groups performing musical theatre songs; acoustic duo Chris Clute & Victoria Groff, singer/songwriters, vocals and guitar, featuring originals and covers; MUSICXCONNECT String Quartet with Kevin Lam, Mark Kim, Cassandra Feltrin and Joey Ye, playing classical composers' pieces; and Maple Leaf Singers, 25 vocalists performing with six-part harmony and choreography.
B.C. muscians & performers
Schneider is quick to admire the rich tapestry of B.C. artists represented and affirms their talent speaks for itself.
"You might go to the Celtic toe-tapping music of the Ceilidh featuring Blackthorn or the high-energy Kutapira from East Van, who delivers a fusion of Afrobeat, funk, jazz and hip hop that's really outside the box. Or be delighted with the fun of Dandy, Phyllis and The Dimes, a nostalgic Christmas show with clever comedy sketches intermingled with a retro vocal trio."
She adds, "Even though some performances might look like niche acts, we're completely welcoming and inclusive to everyone."
Ticketed highlights at the Anvil Centre include: O Come All Ye Soulful, award-winning vocalists, Dawn Pemberton and bassist/band leader, Jodi Proznick, and an all-star band; Axis Theatre's Th'owxiya: The Hungry Feast Dish, a Kwantlen First Nations tale that follows a sly mouse (Kw'at'el) who's caught stealing cheese from this feast dish; Canada's premier professional taiko drumming group, Uzume Taiko, a theatrical blend of movement and music; the enchanting children's favourite, Pico and the Golden Lagoon by Picos Puppet Palace; and Molly's Comedy Cabaret, a musical variety show featuring Vancouver's rib-tickling Molly Wilson.
"We really hope people will come out and see what we're so excited about. It's a great holiday opportunity, very fun, and quite unique," admits Schneider. "Plus, you don't have to sit still for two hours with your little ones. You can relax and have a great experience with the arts."
For more information and performance schedule, visit anviltheatre.ca/winter-celebrations-2022/.