The excitement is mounting. Preparations are in full swing as the Hyack Festival Association (HFA) gets ready to welcome everybody to their grand celebration, the annual Hyack International Parade & Festival, a staple of the community and a well-honoured tradition.
Metallic fringe, pom-poms, pennant banners, streamers, and balloons are all being imagined into the most colourful and fanciful floats for the parade, taking place on Saturday, May 27 from 11 a.m. to 1 p.m. through the streets of New Westminster.
You'll be treated to more than just floats: dance/theatre troupes, marching bands, performance artists, and lovable mascots are just a sample of what will be joining B.C.'s biggest family-oriented parade.
"This year we're trying to focus on a local showing of the HFA spirit," says Sheila Sharma, executive director at New Westminster HFA. "The diversity of participants entered into our parade is a heart-warming blend of the many groups that make up our community."
Cheer on participating groups such as Hyacks Football, Gizeh BC Shriners Tsawwassen, Peach Arch, and New Westminster Clubs, Maple Leaf Singers (show-chorus with choreography), Scouts Canada – 12th New Westminster, School of Rock Vancouver, New Westminster Philippine Festival Society, Music Box, New West Chinese Society, and Langley's Silver Diamond Country Dancers as they make their way along the parade route.
More than 100 entrants are expected on the route, lined by an estimated 10,000 spectators from Eighth Avenue along Sixth Street, Queens Avenue, and First Street, ending at Queens Park.
HFA's entry, Jewel of our City float, will be touring different communities in the lead-up to the parade, an idea conceived by Penny McIvor, HFA's 2023 president.
"We want to show that the HFA is a jewel of our City by promoting togetherness," reveals Sharma. "So, we're taking our community spirit and spreading it around to the rest of the Lower Mainland."
A strong collection of out-of-town floats include Olympia, representing Washington Capitol Lakefair; Wenatchee Apple Blossom Festival, Washington; Penticton, for Peach City, Peachland; and Marysville Strawberry Festival, Washington.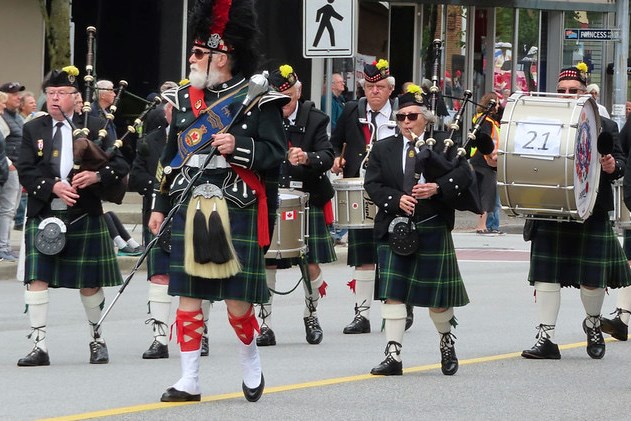 Free festival in Tipperary Park
The revelry is ongoing from 11 a.m. to 4 p.m. at the Hyack Festival in Tipperary Park, where you can gather with friends and family for fun, entertainment, music, food, and activities for all ages. Enjoy the Kids' Zone, with face painting and crafts, and inflatable carnival games, plus the very cool boat building activity, with the Vancouver Wooden Boat Society.
Support a variety of local vendors, artisan creators, and exhibitors, and satisfy any craving from your favourite food truck, like Baba's House, JAPADOG, BurgerHolic, REEL Mac and Cheese, Dos Amigos Tex-Mex, Gabi & Jules Baked Goodness, Crema Ice Cream, Gary's Kettle Corn, and more.
Enjoy live entertainment and musical performances on the main stage from a stellar lineup, including Queensborough Middle School Band, Shauna Singer with guitarist, Dave Dombrowski, and Motion & Music Performing Arts.
"It's always our pleasure to gather and encourage volunteers from our City to rally around this event that brings citizens from every walk of life together in camaraderie, finding a common joy in the celebration of our community," acknowledges Sharma.
"If you're interested in serving your community and coming out and having a ball with a bunch of like-minded people, then the Hyack Festival Association is the group that you want to get involved with."
For more information on the parade or to volunteer, visit www.hyackfestival.com