The Hyack Festival Association has always been a beacon of community spirit, and if ever there were the perfect occasion—now's the time to lean into that.
Cue the marching bands, flag twirlers, mascots and fanciful floats. Get ready for the high-energy cheer squads, dance troupes, clowns, performance artists, and more.
They're all gearing up to take to the streets again Saturday, May 28 at 11 a.m., for B.C.'s biggest family-oriented parade.
In fact, the city's famed Hyack International Parade & Festival is in the final stretch of preparations for a tradition originating more than five decades ago.
"It's important for us to provide a place and time for folks to come together in joy and celebration," says Sheila Sharma, Executive Director of the New Westminster Hyack Festival Association.
"We really need to get that community spirit back up. Everyone's felt so isolated these past couple of years. We encourage participation that's inclusive, intergenerational, diverse and multicultural."
Technically, 2022 marks the parade's 51st year. Hyack hosted a drive-by porch parade last year for its 50th anniversary due to COVID-19 restrictions.
However, the association agreed it was deserving of a more fitting extravaganza for the golden jubilee milestone.
"Usually, Hyack presidents are only appointed one year, but we voted to give our past president Becci Dewinetz a second term because she didn't have the chance to use all the great ideas she had planned," explains Sharma.
"So, we're going to treat this year's celebration as a nod to the celebrations that should have happened last year."
"What's amazing is that Becci was part of Hyack in 1981 as Miss New Westminster, and 40 years later, she's President. She's modeled our current float after her 1981 float—just kicked up a bit. Her theme is Decades of Dedication, to honour the hard-working folks who have dedicated their volunteer time to keeping the festival spirit alive and bringing the community together."
Spectacle of sights and sounds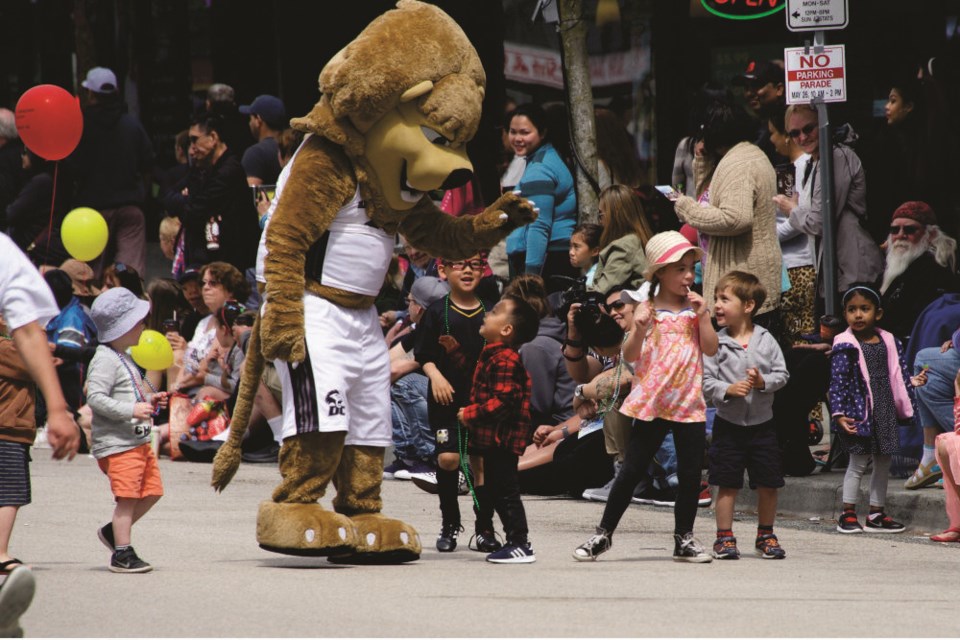 Hyack's message: "Anybody can be in a parade!"
All you need is a fun and enthusiastic attitude and an entertaining idea. As long as you know how to whoop it up, you're a great fit to join in this organized, moving show of imagination, music and lighthearted frivolity.
"I think there's a misconception that you need an enormous float, but anybody can be in a parade," says Sharma. "You just need a little creativity. Poke fun at yourself. It can be hilarious. Those are the groups people are going to remember. You can always call us for suggestions."
Sharma adds, consider adding over-the-top vehicle decorations, or themed costumes and an energetic marching routine. Comedic entries that are family-friendly are always encouraged.
The procession begins at Eighth Avenue and continues along Sixth Street, Queens Avenue, and First Street, ending at Queens Park.
Previous Hyack parades have seen 7,000 to 8,000 and as high as 10,0000 spectators, and this year plans to draw the same numbers.
Among the out-of-town floats, entries include Penticton, representing Peach City, Peachland, the Kelowna Spirit of the Lake, the Royal Rosarians, City of Roses, Portland, Washington State's Leavenworth Autumn Festival and the Wenatchee Apple Blossom Festival. New this year, the Japan-Canada Chamber of Commerce float.
Festival of community spirit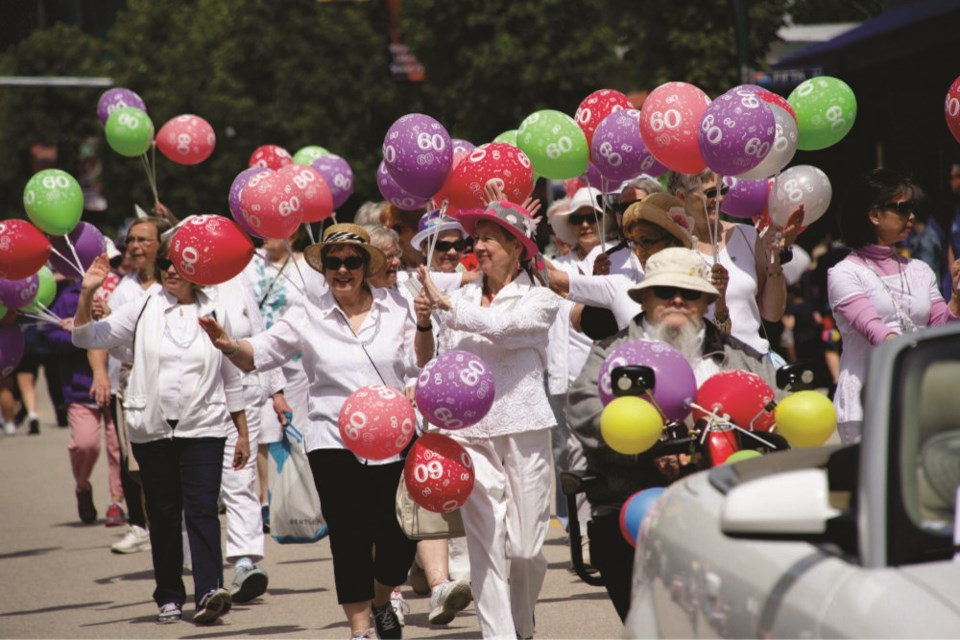 The festivities continue at the Hyack Festival until 4 p.m., normally held on Belmont Street, now at Tipperary Park. Expect free entertainment, live music and activities for people of all ages, plus you can support local vendors, food trucks and other artisan creators.
Move like Jagger to the extensive catalogue of Top 40 and more by dance band Cakewalk.
"There's lots of fun songs to keep the energy up," says Sharma. "We also have some fabulous food: Hugs Gourmet Mini Donuts, Crema Ice Cream, Reel Mac & Cheese, Burgerholic, and Dirty Vegan, plus lots more; there's a great variety."
The Kids' Zone, run by ISSofBC is full of games, balloon animals, face painters, and crafts.
"We're so excited to be back," says Sharma. "We miss everybody, and we want to reconnect. I think we all need something really positive and really fun to focus on, and this is it. This is the event for it."
For more information on the parade or to volunteer, visit www.hyackfestival.com.