With gyms still shuttered for at least another couple of weeks due to Ministry of Health pandemic restrictions and ice and snow piled up outdoors, what are folks who want to keep fit but who have no equipment at home to do?
Squamish's Gabe Pryce-Jones, a boxing, life and health coach who runs medicine ball and boxing courses, says there's no need to tie fitness with any facility.
Folks have all they need within themselves, and at home, he said.
He advises three activities for folks locked out of the gym.
First, he suggests working on your mental health.
Work to replace stress and anger with gratitude, he said.
He suggests checking out Tony Robbins "Priming," which is 10 minutes long and free on YouTube.
"It starts with a certain kind of breathing that gets your lymphatic system moving, then he has you focus on your heart and gradually to be grateful; then you visualize sort of a healing energy going through your body, and then you visualize things you want to get done," Pryce-Jones said.
Also, educate yourself, he said.
Take the time afforded to you not going to the gym to learn something new, particularly about fitness and health science, theory and practice.
"They should be reading books. And the best book I can think of them for them to download is a book I just recently read called The Wim Hof Method," Pryce-Jones said.
Learning something every day is essential for everyone's health, he added.
"They should take this time to do themselves a favour and start to read a little bit about what actual fitness means," he said, adding to follow scientific evidence when it comes to training and fitness.
A healthy body image and attitude toward fitness are also key.
"The biggest thing for your readers to remember is growth and progress are life. And when you're confronted by something like this, in this case, the fitness that they're looking for, they need to start with their mental health. Because if they're thinking anything like 'I'm not enough, if I don't have a ripped stomach,' that's a folly. And it's causing them grief and pain," he said, noting the fitness industry, as part of a capitalist system, often makes people feel bad for what or they are or where they are at in order to get them to spend money to get in better shape.
Don't buy that, he said.
"That's capitalism, and I have nothing against it... but what I'm saying is, your readers need to know that they can take care of their physical and mental health immediately and take this [time] as a gift to start to grow themselves.."
Physically, all you need is your own body weight to get started, Pryce-Jones said.
Tension over time is what is required for proper muscular and cardiovascular health, he said.
His advice is to focus on push-ups and squats.
"Do as many fast reps as they can of those and then they want to hold it. So, with squats, they would do as many as they can pump out — just to get the blood in there — and then they should put themselves up against the wall and do wall squats for as long as they can with their hands out in front of them."
He acknowledged, for many women, traditional push-ups can be challenging, so his tip is to not start at the top.
Instead, start with your whole body flat on the ground.
"Hands flat, roughly around where your shoulders are at shoulder-width, or whatever is comfortable for you, toes curled underneath your feet," he said.
"Pull your knees off the ground, tighten your thighs, harden your core and with a deep breath out — you don't think about pushing up this is very important — think about pushing the earth away in one powerful move."
He said anyone with weaker upper body strength he has worked with has been able to do push-ups this way.
Do as many push-ups as you can.
Then, do a half-push up and hold it for as long as you possibly can.
Pryce-Jones is also a proponent of intermittent fasting and recommends folks read up on it.
"They are going to be in better shape now than they were going to the gym — spending two hours just to get there and back. They can do this in like 10 minutes at home," he said.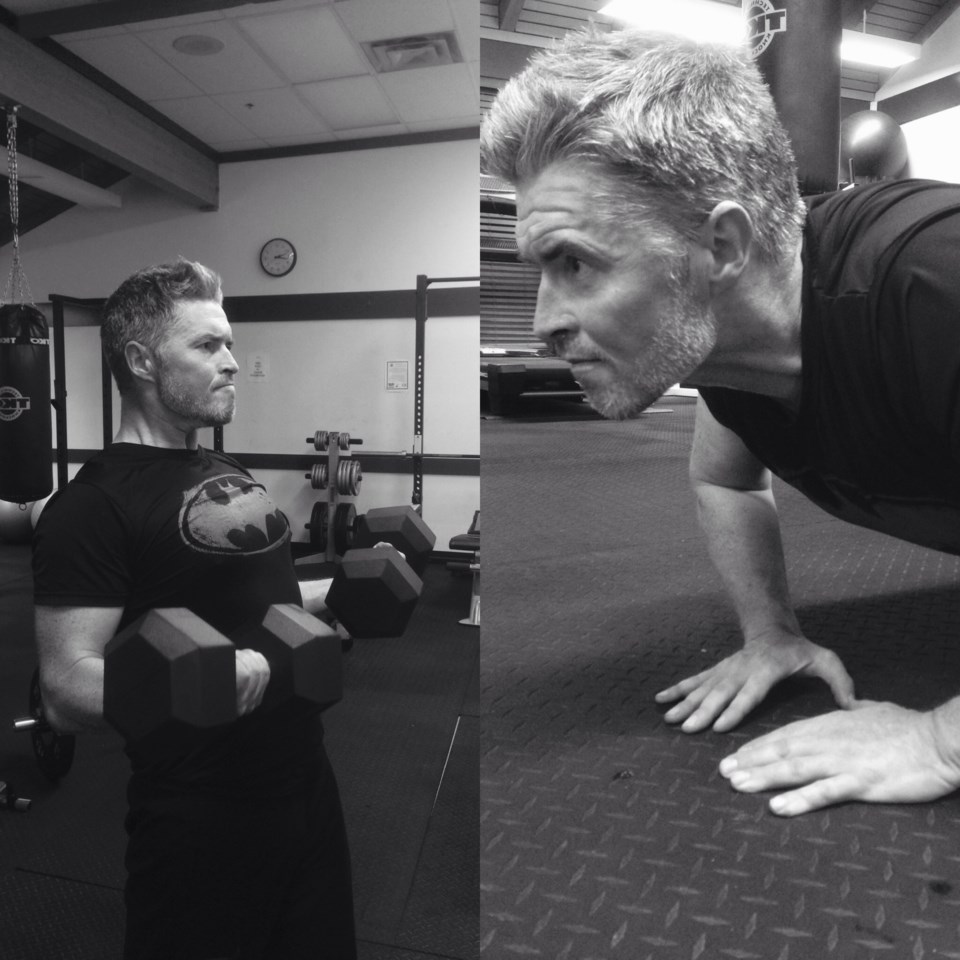 Core values
For Pryce-Jones, who moved to Squamish from Whistler in 2013, an interest in fitness came when he was a child.
"As a kid, you want to be strong. And so I started following guys like Arnold Schwarzenegger and Hulk Hogan. And I started from there, making all the grand mistakes we all make," he said, with a laugh.
Living in Whistler, he eventually trained with a Russian boxing coach, eventually became a Canadian National Boxing coach.
"That's where the medicine ball conditioning comes from is from boxing," he said.
"I like fitness, mixed up with a rock concert. It's just in the gym, you got a medicine ball, a mat and you got me in front of you. And we go through drills that are anywhere from a minute to two minutes long," he said, explaining his classes.
He also coaches a 90-day accelerator boxing program.
It starts off teaching the basics and then "really hard combinations."
"Just over and over and over, you're throwing these punches and steps — at my rate, not your rate, so you just sweat a bucket load — but we integrate boxing into your nervous system. And then eventually, we get the light sparring and full-on sparring. And every 30 days, we meet up with other fighters who are in my program," he said.
People also get to work out their stress and aggression, he said, which if it isn't exercised, comes out in other ways in life.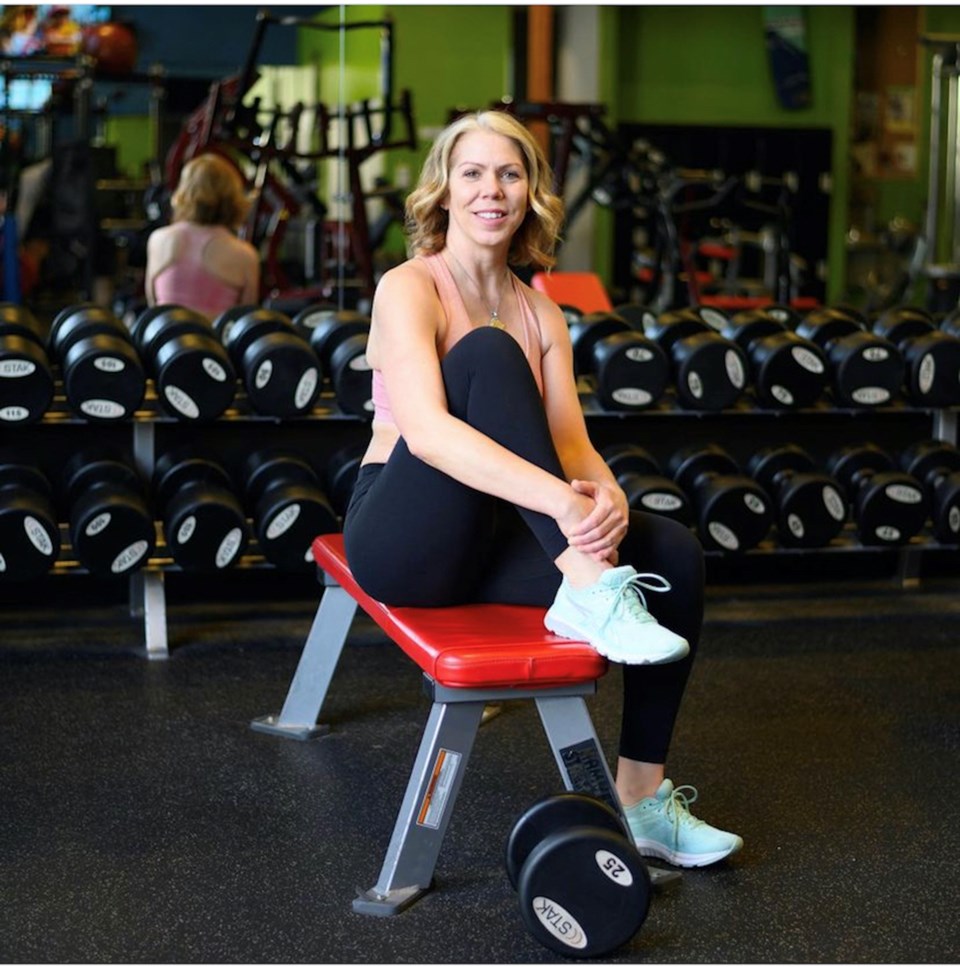 Accountability is key
Squamish trainer Marcy Peaker, of Peak Body Training, which specializes in women's training, had some advice for folks who may feel their fitness resolutions have been sidelined by gym closures.
The key is to start moving and keep consistent, she said.
"There are lots of social media platforms, and internet — lots of free workouts — or you can support a local trainer who offers something online. There are lots of options in that category," she said.
A good walk is never a bad idea either, she said.
"I never underestimate the value of walking. It's definitely one of the most effective things that you can do for yourself because it does have that combination of the physical and mental that goes along with it."
Having a workout buddy, online accountability group or trainer keeps people accountable and consistent, she added.
"I think, just having that connection with others is what's going to get you through it, whether it's going for a walk, or having an accountability partner or a small group of buddies. I think that that connection is what we all need most right now, in a safe way."
Personally, to get her through this COVID-19 purgatory, she takes solace in the online training community she created with her clients and walks with her dog.
"I have a small online fitness community as well. So, that helps me stay accountable because I work out with clients online," she said.
The pandemic has taught her to be adaptable, she said, noting she wasn't teaching online prior to COVID-19.
"It's taught me to be adaptable. And then once you adapt, adapt again," she said.
When you go back
Peaker, who trains at Mountain Fitness Centre when it is open, recommends people returning to gyms — once those facilities are running again — break down goals.
"Break your bigger goals into smaller ones and then set out a plan. So, actions that are going to get you to that goal, instead of just focusing on, like, 'I want to lose 10 pounds,' what are the actions that you're going to focus on to get there? And then if you're consistently focused on those actions, before you know [it] you're going to be at that goal," she said.
For average locals intimidated by the often elite level of athletes working out at gyms in Squamish, Peaker said no one should feel they don't belong in a gym because of that.
Those high-performance athletes are usually into their own workout and not looking around at what others are doing anyway, she said.
"And if they are [noticing you], they're probably feeling that they're pretty proud of you for giving it a try as opposed to being judgmental or anything like that."
Find Peaker at peakbodytraining.com/trainers/marcy-peaker/ or Peak Body Training on Facebook and Instagram.
Find out more about Pryce-Jones at medicineball.club or on his social networks at "Gabe Pryce-Jones Workouts" on Instagram and Facebook.